Step 2 - Setting Up Your Domain and Going Live
This example is actual data from this sites host - NameSilo
What Are The Actual Costs For Setting Up a Website?
I decided to call the website "webtoolbox.com" and I did a domain name search using the NameSilo tool. I was sure tha I wanted a .com extension so any others were not an option for me.
When I did the search, I saw that the name was already taken but wasn't being used. This usaually means that someone has registered it with an idea to get a bidding war on it. The next idea was to try thewebtoolbox.com. This was available so I snapped it up.
What to buy immediately
The Domain name registration.
WHOIS Privacy.
ICANN Fees.
12 months hosting.
Comodo Essential SSL Certificate
Premium DNS
The total bill was $53.25 / £ 41.44. I paid with Paypal and I was able to login to my account immediately
What Do I have To Do First To Get My New Site Started?
You will immediately receive a series of emails from NameSilo.
The first will be an email address verification - click on the link to prove that you are who you said your are.
The second is most important email. This is telling you to login to your account and to change the nameservers - this is critical!

Click on the "domain manager" link (2nd down on the Account Options menu)

Click on the box next to your domain name - this will highlight the top bar. Click on the "Change Nameservers" icon.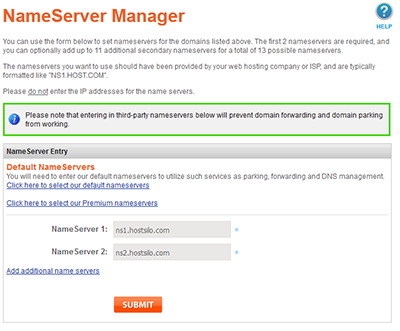 In the email that I received I was instructed to change the names to the ones shown in the screenshot above. Just cut and paste from your email over the top of whatever is in the boxes. Then click on the Submit button.

Now for the hard part - It takes about 48 hours for your site to appear with the SSL Certificate (The Padlock in the browser bar). During this time there is little or nothing practical that you can do. I just kept checking the web address every few hours to see if anyhing had happened!
The way to check if the site is ready for you is to enter the full address into the web browser address bar. So in my case I entered https://thewebtoolbox.com. Once the site comes up with the https holding page you can take step 3.
I decided that now was a good time to think about a Logo. Click on the next step button below to see what I did.